Hungary is OPEN for filming!
First of all Hungary is NOT closed for shooting and production. Hungary has closed its borders for tourist travel but work and business related travel for foreigners into Hungary is ALLOWED.
In terms of the newest covid regulations in Hungary:
Updated on Tuesday, January 19th, 2020. 
In recent weeks, the COVID daily infection numbers have seen a significant drop. Today, we "only" had 875 new infections.This trend seems to be attributed to the continued strict regulations that are in place. Please read more about the regulations the bottom half of this email.
We have also successfully finished a big commercial production in the first two weeks of January. We were able to finish the entire production COVID free. Also, we have been COVID free with 2x weekly testing with a crew of 180 on a Sony production in prep starting filming next week.
In terms of travel: All citizens of the EU, USA, Canada, UK, Sweden, Japan, and several other countries, are allowed to enter Hungary for work purpose. They need to provide an invitation letter, which we will send out before arrival but the there is no more quarantine required. Most airlines are requesting a negative PCR test 48 hours before travel and we organise PCR testing on arrival and before leaving the local accommodation for work.
Current total infection numbers are 352.703 in Hungary – 110.853 are active cases (21.489 of these cases are in Budapest) – -230.441 have fully recovered – 11.409 have died.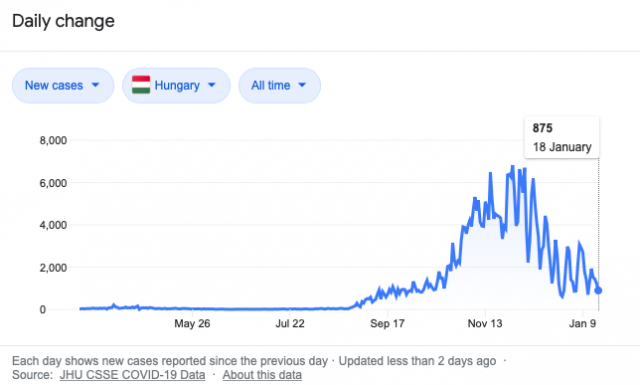 In terms of the covid regulations in Hungary: 
Since November 4th, our government has reintroduced the state of emergency for 90 days. Additionally, since November 10th, a lockdown with a curfew has been issued again, which is imposed between 8PM and 5AM. An exemption is provided for those who are headed to or from their workplace during those hours. All gatherings are prohibited and restaurants are closed except for home delivery and take-out service. Hair-dresses, small craft service providers have to close by 7PM. Leisure facilities are closed, including zoos, museums, theatres, gyms and indoor swimming pools. These restrictions are in place till February 1st.
The good news is that these new regulations do not influence filmproduction as it is work activity, therefore exempt. We can continue preparing and shooting with no interruptions as we have done during the past couple of months.  In terms of night shoots and travel during curfew hours, we have a National Film Institute backed letter format we issue to all cast and crew to carry with them in case of any police checks.
These measure has been taken in order to minimise the outbreak of numbers and ensure to keep Hungary a safe place for shooting. Over the past couple of months, we have already successfully finished several big and small productions and are also preparing incoming projects. We continue to adapt and learn how to manage these new challenges. Our recent experiences are further helping us to enhance and adopt our protocols and evolve in the best possible way to continue ensuring safety on set.
We are working closely with the Hungarian Film Commission to continuously update us on development and enhancements. Please click here for the official Health Protection Plan for Film Shooting during COVID-19 issued by the Hungarian Film Institute.